BIOG
EDUCATION
Magdalen College, University of Oxford (MA, Jurisprudence) 1981
Admitted as a solicitor 1984
CAREER
Clifford Chance 1982-
Partner 1994
Recruitment partner 1995-2000
Senior litigator, London
ROLES
Former president, London Solicitors Litigation Association
Committee member, City of London Law Society
Member, Court of Appeal Mediation Panel
Accredited CEDR mediator  
KNOWN FOR
President of the Law Society, 2019/20
In June 2016, Michael Gove was pilloried by the liberal commentariat for stating that 'people in this country have had enough of experts'. 
He was right, of course. Three weeks later, the public delivered an unprecedented 'up yours' to an overwhelming establishment consensus by voting to leave the EU. 
Simon Davis does not mention Gove by name. But the populist sentiment to which the then lord chancellor gave voice partly explains why this seasoned magic circle litigator aspired to the presidency of his professional body. 
'What I saw around me – what am I still seeing – was a gradual erosion of trust in experts, including the professions, and in the rule of law,' Davis says. 'There has been a decline in trust in those who you might think are in a better position to understand the issues, and to give clear advice.'
Why so? 
'You cannot overestimate the reverberations of the [2008] financial crisis,' he replies. 'Would Brexit have happened without the financial crisis? I suspect not. There is a perception that some areas of society have benefited more than others since, and the professions are caught in the crossfire.' 
Davis adds: 'For the profession, this collapse in trust manifests itself in straightforward solicitor-bashing: talk of "ambulance chasers" and "fat cats". That perception bore no resemblance at all to what I was seeing in my own firm and on the Council of the Law Society. 
'I see [the presidency] as an opportunity both to uphold the rule of law, and also to represent more accurately what the profession does and what it stands for.
At all times, I'll be heard to say, "is what we at the Law Society are doing relevant, and in the interests of both the profession and the public?"'
As a career 'lifer' at Clifford Chance, where partner remuneration runs well into seven figures, Davis is sensible of the need to abjure the 'elitist' tag himself. 
'I am not a great fan of the word "populism", which has a slightly pejorative whiff about it,' he is keen to stress. 'It is dangerous to suggest that the "elite" know better than the people. But the public ought to be able to rely on institutions that are run by people who have integrity, who make it their job to get things right having assimilated all the facts. If the public are well-informed then they're perfectly capable of giving a sensible opinion.' 
You pick on some people you think get paid too much and the whole system gets trashed
A wholesale collapse in deference brings with it a coarsening of public discourse, as Davis acknowledges. This makes the job of a professional body much more difficult. Social media's echo chambers have little room for reason and nuance – little room for facts, indeed, some of the time. Emotions rule.
Politicians and the media merely go with the flow, though one could argue that has long been so. I mention Lord Falconer's recent mea culpa on legal aid cuts, when the former Labour lord chancellor admitted that targeting top-earning QCs cemented the perception that all lawyers were somehow 'a bad lot'.
'I'm glad you raised that,' Davis says. 'As lawyers say, bad facts make bad law. You take an extreme, and then damn a whole system because of that extreme. That's the problem with politics. And the world of Twitter has made things worse.' 
He adds: 'When I'm dealing with policy consultations, or with parliament, what I am particularly keen to highlight are the unintended and possibly unforeseen consequences of what is happening. People wake up a long time later and realise, "because we did this, we now have a disaster on our hands somewhere else".'
'INTRUSIVE REFORMS' 
Nearly 12 years have elapsed since the Legal Services Act 2007 received royal assent, but the vexed issue of how legal services are regulated has never really gone away.  University College London is undertaking the latest review exercise, led by independent legal thought leader Stephen Mayson. 
The Law Society issued an initial response to Mayson in February which argued that further legislative reform is unnecessary, and that improvements can be made within the scope of the current framework. A final submission will be submitted in the coming weeks. 
'Where we end up is ultimately a matter for Council and the profession, not me,' Davis stresses. 'My view is that, when there are so many challenges out there, spending a vast amount of time and resource on further widescale reform could be a very serious distraction. No system is perfect, but the question is whether further, intrusive reforms would simply swap what might be regarded as imperfect but workable for something that is also not perfect but unworkable.' 
Yet there is more to this issue than austerity. As I write, Vladimir Putin has contemptuously dismissed the 'rule of law' itself as an obsolete preoccupation of effete western liberalism. 
Lawyers, at least, should not be shocked. The president of the International Bar Association warned last year that the benign diffusion of liberal-democratic values such as the rule of law has gone into reverse across the developed world.
The law cannot shift periodically to reflect the public mood. If it becomes so fragile and changeable, what's the point of having judges and laws?
Of course, the UK is not Putin's Russia (or even Orban's Hungary). But as the furore over the Mail's notorious 'Enemies of the People' headline demonstrated, we cannot be complacent. 
Davis says: 'I think a "lynch mob" mentality sometimes develops – the view that the law might say such-and-such, but it should be sufficiently flexible to bring about the result the public wants. 
'If we are going to uphold the rule of law, then the law cannot shift periodically to reflect the public mood. If it becomes so fragile and changeable, what's the point of having judges and laws? Why don't we have a newspaper poll every day, allowing readers to vote "guilty" or "not guilty"?'
In England and Wales, the bigger challenge is perhaps more mundane. Justice has degraded into just one more political commodity – and a commodity with a low value relative to other calls on the public purse. 
Davis says: 'Year in, year out governments of every hue have pushed justice to the bottom of the spending pile, because it doesn't strike the same public chord as health or education. What is so often misunderstood as a clarion call for more cash for lawyers is actually about access to justice, and representation for people who are often among society's most vulnerable.'  
He cites the example of criminal duty solicitors: 'They are going in to work at all kinds of hours. [Clients] come in drunk, swearing, screaming, spitting. The solicitor might have to be seated with a spit mask themselves. But they'll be on a fixed rate which has not changed since 1998 and in 2014 was cut by 9%. That kind of risible remuneration shows why we don't have young lawyers coming into criminal law and the average age of a criminal duty solicitor is approaching 50.' 
He adds: 'Things have come to a pretty pass when the Law Society has to sue the government and the criminal bar threatens to strike. Both organisations are strong advocates for the rule of law, so going to court or going on strike must be understood as measures of last resort.' 
At long last, however, there are signs that a public mood to which the profession has long been helplessly in thrall may be shifting. 'I think the attitude of the public and politicians to the criminal justice system is really changing,' Davis says hopefully. 'Last year the Society conducted a survey which found that, for the first time, equal numbers took justice as seriously as the NHS.'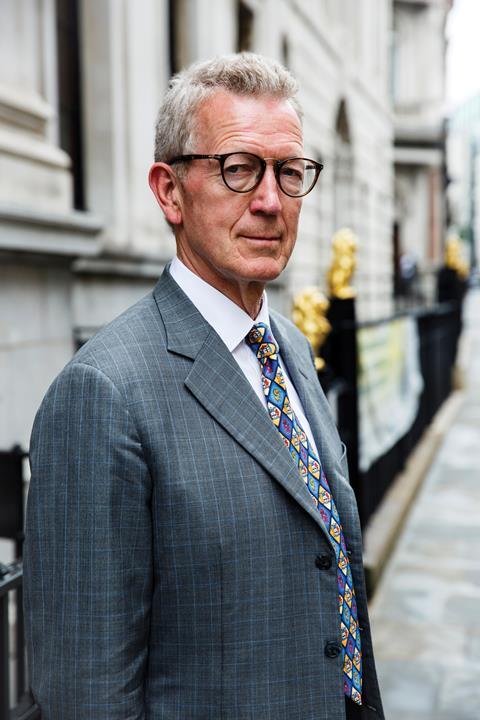 Davis notes that in its long-awaited review of the Legal Aid, Sentencing and Punishment of Offenders Act, published in February, ministers promised at least some new money to fill the gaps in access to justice created by the 2013 reforms. 
'For the first time in 20 years, there is a positive direction of travel in terms of extra cash and reviewing areas such as means-testing,' he says. 'I think the atmosphere within parliament has changed across the political parties.' 
The top City litigator's stout defence of criminal duty solicitors neatly demonstrates one of the Law Society's strengths – but also one of its weaknesses. He is the first magic circle president since John Wotton, then a consultant at Allen & Overy, in 2011. With magic circle newly qualifieds now earning over £100,000 – more than three times the UK's average wage – how does Chancery Lane pull a polarising profession together?
Davis says: 'When I was elected to Council in 2004, some people in the City said: "Why did you want to do that, they have no interest in City issues." Then when I got there the first person I spoke to said: "The trouble with Council is all it's interested in is the City."
'Both perceptions are wrong. The Law Society and its Council are very much focused on the "broad church". 
'When I first joined the Civil Litigation Committee, for example, I saw that it was doing a great deal of good work in shaping what was then a busy reform agenda.' 
He adds: 'People often view the justice system in this country on the basis of what they see at a trial, which is belligerent parties engaging in resolving seemingly intractable problems. They're seeing the system through a distorting lens, because about 90% of cases are settled before they come to trial. That kind of voice wasn't really being heard, which is why I joined the committee.' 
His interest piqued, Davis says he learned 'an enormous amount' about legal disciplines that he had never engaged with – from conveyancing, to wills and legal aid. 
'In each case they appealed to the reason I became a litigator, which was because I like sorting out people's problems. When I'm out there talking to school-leavers about why they should become a solicitor, I say to them: "Are you the kind of person your friends confide in, and trust, and want to share secrets with, and want to come to for advice?" If you are, then you're on the right track. 
'But if you're the kind of person who has to be held back by your friends – who has to be warned against doing certain things – then you should probably do something else.' 
So what are the new president's priorities for the profession? They include attracting the best talent, removing barriers to entry, and sustaining the high-profile work of predecessor Christina Blacklaws on equality, diversity and legal technology. 
People are seeing the justice system through a distorting lens, because about 90% of cases are settled before they come to trial
Davis cites concerns expressed by junior lawyers in particular that the SRA's new 'super-exam' could actually inhibit a more diverse intake. 'We'll be working closely with the regulator to make sure the Solicitors Qualifying Examination actually reduces barriers to entry and does not inadvertently put people off, particularly if they can't get the funding,' he says.
'Also, following on from Christine's mantra, the Society's role is to make it clear that whatever your gender, religion, race, or social background, you can have a terrific career as a solicitor. And we will support you in that career, recognising that to be a solicitor you don't have to push everything else in your life to the margins.'
That support will also encompass 'freelance' solicitors, particularly through a renewed focus on professional ethics. This is the new breed of professional whose advent has caused controversy because they will be exempted from the existing requirements for professional indemnity cover. 
Davis says: 'The reforms have happened and we accept that. In the context of solicitors working in totally unregulated entities, my concern centres around the fact that people tend to act ethically when they are surrounded by people who share those ethics. So those solicitors may be at risk. This is not like an alternative business structure. Those solicitors will need support, for example, with regard to what they need to be telling clients about their status.'
We conclude with a necessary nod toward Brexit, which, for Chancery Lane, does at least have an upside. 'It's perhaps odd, but the reputation of the profession in the eyes of government has gone up since the vote to leave the EU,' Davis says. 'We spend a great deal of time with the Ministry of Justice and other government departments talking to them about points to be made in negotiation, and how we make sure English law and this jurisdiction remain pre-eminent.' 
He adds: 'How do we make the best of it? We've always said we should avoid no-deal if possible. What we need is certainty. At the moment we can't talk to anybody about anything and I think it behoves parliament to give a lead to the country. 
'Personally, I believe that unless there is a referendum that reverses the result of the last one we have to respect the first result. That is a matter of the rule of law.'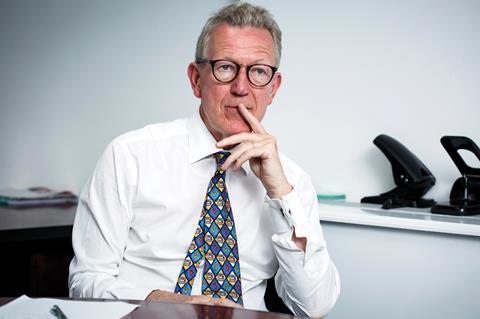 Source link