Nearly seven decades after the guns stopped firing – most of the time – the world's most tense national frontier is a major tourist trap. Just inside the 4-kilometre-wide demilitarised zone, closely shepherded coachloads of visitors line up to view the hills of North Korea through binoculars and to buy mounted strands of barbed wire, DMZ chocolates or $45 bottles of North Korean whisky from souvenir shops. 
Of course the whisky gets here via China – for all the diplomatic initiatives of recent years, the North-South Korean border remains closed. And the world's largest minefield.
Just 50km from the mines and barbed wire, Seoul's brash Gangnam district – Fifth Avenue, but without panhandlers – last month triumphantly staged the world's largest annual gathering of the legal profession. For the hosts, the presence of more than 6,000 lawyers from 131 countries was a welcome endorsement of the Republic of Korea's rule of law and membership of the club of rich democratic nations. 
In his welcoming video message, president Moon Jae-in asserted that the rule of law in Korea dates back to the Bronze Age – subtly upstaging a claim by the Japanese prime minister when the IBA came to Tokyo in 2014. Strictly speaking, of course, such claims are about rule by law. Seoul's mayor, Park Won-soon, paid his guests a prettier compliment by opening his speech with a quote in Latin from Magna Carta, to which he attributed the origins of rule of law. 
Park, who has overseen a dramatic transformation in the Korean capital, from a utilitarian construction site polluted by traffic fumes and tear gas to a stylish tourist destination, was himself a human rights lawyer. He recalled being detained for demonstrating against the ruling dictatorship as a student in the 1970s and paid tribute to the profession's role in promoting democracy: 'Worldwide progress is entirely thanks to all of you as guardians of the rule of law.' 
But elsewhere at the conference, confident expressions about progress were hard to find. If there was a theme to the week-long event, it was that democracy and the rule of law are in retreat around the world – and that the legal profession is the canary in the mine. IBA president Horacio Bernardes Neto (pictured below) set the tone in his opening address, citing 'the era of Brexit, populism, and unilateralism' as reasons for concern. 'Threats to the rule of law are coming from places we never imagined such threats would exist,' he said. 'In South Korea we know the rule of law has been effective for many years, but don't take it for granted. We should never take the rule of law for granted.'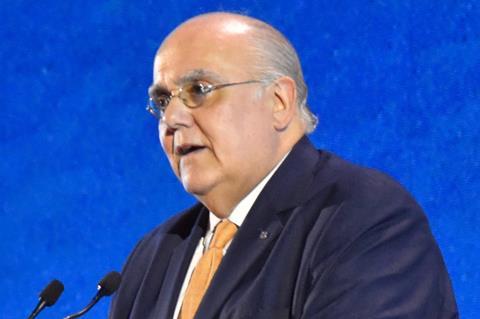 Some may accuse Neto of hyperbole, especially in the reference to Brexit (three days before the Supreme Court's ruling on prorogation). But the conference also heard academic evidence of democracy in retreat; the annual democracy report published by the V-Dem Institute in Gothenburg. 'We're in a different world to that of 10 years ago,' the institute's Staffan Lindberg told a session on 'Are human rights in retreat?' The institute, which monitors elections, access to justice and freedom of expression in 181 countries, concludes that the world is undergoing a third wave of 'autocratisation'.
This wave differs from its predecessors in ways that could make it more pernicious, Lindberg said. First, it is happening more slowly, which makes it more difficult to react to with urgency. The perpetrators are also being more subtle, for example retaining the form if not the substance of elections. 'Autocrats and would-be autocrats have learned their lesson,' Lindberg said. 'Make the elections look good, but between them undermine everything that makes elections meaningful.'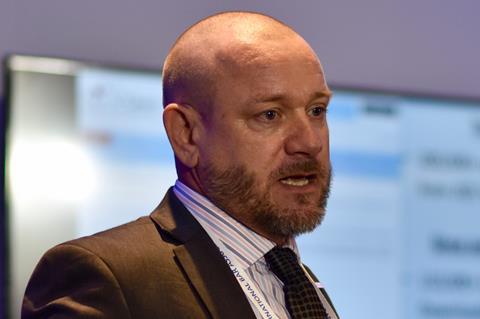 This includes attacks on freedom of expression and judicial independence – an early warning sign of democracy under threat. 'I think it's time for us to take this seriously,' Lindberg said. 'When you lawyers act and speak, governments have to listen. It's time to start.' 
The UK's Baroness Kennedy of The Shaws (Helena Kennedy QC) was one of several speakers to warn of a growing threat from populism, defined by Argentinian economist and author Emilio Ocampo as a 'Manichean and antagonistic narrative'. Christina Blacklaws, immediate past president of the Law Society of England and Wales, reminded attendees that this does not happen only in far away places, saying that the Mail's 'Enemies of the people' headline episode 'still sends shivers down our spine'. The UK Supreme Court ruling which followed shows that 'if you have robust institutions and an independent judiciary you can hold the government to account. But there is no room for complacency. It is up to us who hold all this dear to fight for that'. 
On a similar theme, current Law Society president Simon Davis said that the battle to protect the independence of the legal profession had to be fought at home. Confidence in the judiciary, along with other institutions, had fallen since the financial crash, Davis said. 'Judges are constantly undermined by the press of every hue and what has suffered has been the rule of law.' However 'times are absolutely changing'. Law Society research shows that the public values the rule of law as much as the NHS, he said. In a memorable phrase, he praised the role of the 'enthusiastic amateur' – the commercial lawyer who, as a matter of professional principle, takes up the cause of human rights. 
By uniting in solidarity the profession can show that human rights lawyers are not just some isolated group to be picked off by hostile authorities, Davis said. 'You can be a human rights lawyer in any organisation; we are all human rights lawyers,' the Clifford Chance partner said. 
Hong Kong 'united'
The IBA stuck its neck out politically by awarding its annual human rights award jointly to Hong Kong barristers Margaret Ng (pictured) and Martin Lee, both veteran campaigners for democracy under both British and Chinese rule. 
Ng told a session on 'Are human rights in retreat?': 'I have never seen Hong Kong so united. This is not about Hong Kong, it is about the world, about universal values. We are now at a very critical stage. But I haven't given up hope. The Hong Kong people have stood up for themselves.'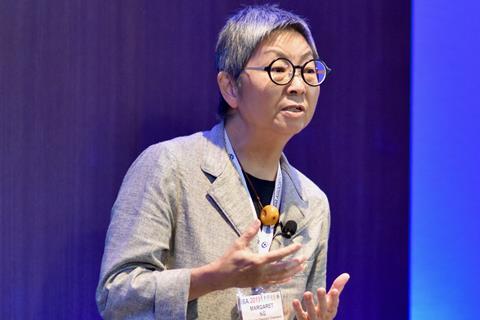 Hong Kong has experienced five months of protests since the special administrative region's government announced plans for a law to allow extraditions to mainland China. Explaining the controversy, Ng said that freedom from rendition without trial had long been recognised as an essential element of the 'one country, two systems' model under which the former British colony reverted to Hong Kong in 1997. 'If you remove this firewall, you will change the status of Hong Kong,' she said.
While the measure has been withdrawn for now, Ng said the city's government remains in thrall to Beijing, even if that puts Hong Kong's prosperity at risk.
Elsewhere in the world, threats to the profession are harsher than hostile headlines. The conference heard accounts of lawyers being threatened, imprisoned and murdered in countries as diverse as Turkey, Thailand and Venezuela. In the Philippines, 44 lawyers have been killed over the past three years, Erik Hammerstein, a commercial litigator who sits on the board of Netherlands group Lawyers for Lawyers said. 
Under pressure
Kennedy warned lawyers to be alert to new ways of putting pressure on them. While in the past lawyers might be charged with treason or conspiracy 'now they are more subtle', she said, deploying accusations such as tax evasion or money laundering. In such a climate, 'commercial lawyers are vulnerable too'.
Other reasons for anxiety come from within the profession itself. One that was highlighted is the exposure of the profession's record of bullying and sexual harassment by the International Bar Association's 'Us Too' report. It was introduced in a keynote speech by Julia Gillard, former prime minister of Australia, who began her career as a lawyer in the 1980s in what she described at the 'very boysy' culture of Slater and Gordon in Melbourne. 'We cannot deal with problems that are not visible. The first step has to be to encourage reporting.' She stressed the importance of reporting, preferably through a 'repeat-perpetrator matching system'. This would help identify the serial offender, typically a high-earning partner or 'court magician' QC – or, as one participant put it, the 'brilliant jerk' whose bad behaviour is brushed over by senior colleagues.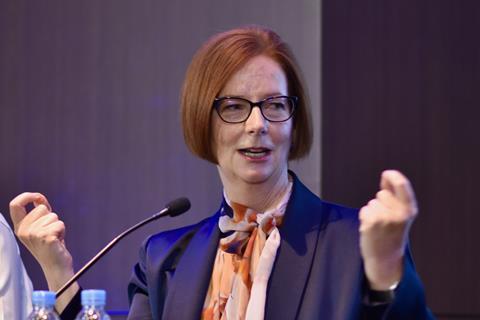 Another key step proposed by the Law Society's Davis was to create a culture in which members of firms treat their non-lawyer colleagues with respect. 
Other challenges include technology, especially when it gets clients 'asking for information they never did before', as Neto put it. In the longer term the profession will have to deal with issues raised by blockchain encryption and artificial intelligence, including the possibility of entirely automated legal services. 'Can a legal service even be described as such if it is produced by a machine without human intervention?', asked Law Society Council member and Gazette columnist Jonathan Goldsmith. No one seemed to have an answer, though Neto did announce the setting up of an IBA commission on the future of the legal profession. 
Meanwhile, tensions continued to rumble over cross-border access to a global market in legal services expected to exceed a trillion dollars by 2021. Alison Hook, from consultancy Hook Tangaza, said that latest figures from 200 jurisdictions (a quarter of which are in the US), show that 60% permit some degree of fee-sharing with foreign lawyers; 70% recognise at least some foreign qualifications; 47% have some rules applying to practice by foreign lawyers; and 52% have some kind of foreign law firm practising within them.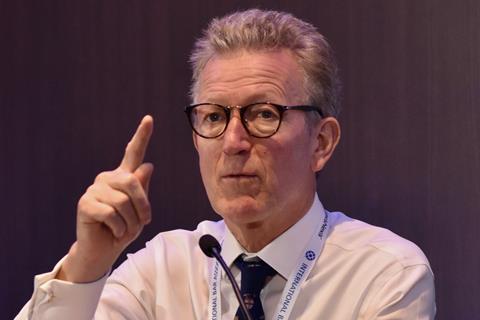 She suggested that, in an age when advice can be delivered electronically, official figures could be underestimating the extent to which lawyers are practising across jurisdictional borders. Despite this, there were no signs of movement by the two most significant economies that remain essentially closed to foreign law firms, India and Nigeria. Amir Singh Pasrich, of New Delhi firm ILA Pasrich & Company, offered a glimmer of hope: 'I believe that, in the next three to five years, we will allow foreign lawyers in and joint ventures. Hopefully we will have foreign lawyers in the near future.'
Meanwhile, Mfon Usoro, of Lagos firm Paul Usoro & Co, said Nigeria had moved on from what had been a 'quite emotive' debate in the early 2000s, when local firms felt under threat from overseas encroachment. While advocacy remains out of bounds, there has been 'some relaxation' in transaction law, she said. Also, foreign arbitrators are now working on a 'fly in, fly out' basis. However, she reminded the session that Nigeria's laws have not changed, suggesting there is 'some flavour of illegality' about legal practice by foreigners. One big change is that Nigeria itself is now exporting legal services, especially to neighbouring countries.  
Putting it on the map
The Law Society's Stephen Denyer sought to dispel what he called the myth of international partners 'sitting in swanky offices looking at the map thinking where can we put an office next?' As far as partners are concerned, each new office is an added cost and a risk. 'You are more likely to ask "Is there an alternative?"'
Xiaoming Li of Han Kun Law Offices, Beijing, agreed that the traffic is not all one way, with Chinese firms now moving up the value chain in international work. 'In our market the US and UK firms are not as strong as they used to be,' he said. 'Quite a few foreign firms have deregistered in China.'
However, representing the new breed of contender in the market, Tony O'Malley, global head of legal services at Big Four outfit PwC, said that there was still plenty of demand for international reach, with clients demanding 'a single-point solution across borders'.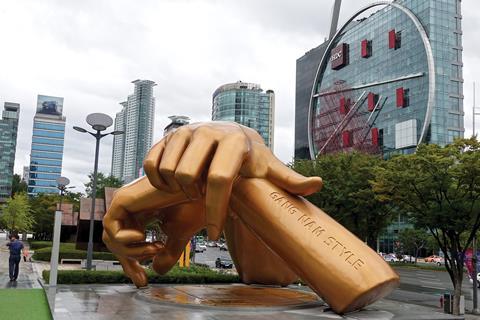 One 'jurisdiction' showing absolutely no signs of opening to foreign lawyers is the one that begins just an hour's drive north of Seoul. Here, the IBA's longstanding focus has been on finding mechanisms through which the leaders might one day be held to account under international law. Difficulties begin with the problem of identifying individual responsibility for atrocities and the quality of evidence available from defectors. For example, while it is widely assumed that Kim Il- Sung's declared policy of 'eliminating the seed of class enemies for three generations' is still in place under his grandson, there is no hard evidence that it exists as a binding rule, O-Gon Kwon, president of the International Criminal Court Assembly of State Parties, said. He stressed the need for lawyers expert in criminal law and criminal proceedings to play a role in evidence gathering. 
Meanwhile, in the words of Jung Hoon Lee, the Republic of Korea's human rights ambassador: 'Crimes against humanity continue today as ever before. There is no mitigation in these violations.' And the international community's response must remain muted so long as China and Russia are members of the UN Security Council. One veteran human rights campaigner, retired Australian judge The Honorable Michael Kirby, drew a link between Russia's position on North Korea and its embrace of populism. 'Mr Putin has a strategy: to put into reverse globalisation, multilateralism and to reassert sovereign powers of individual states.'
An IBA project to examine how to overcome challenges in prosecuting crimes against humanity in North Korea will report at next year's annual conference in Miami. However, as that event is scheduled for the month of the US presidential election, it may be overshadowed by domestic events. One safe prediction is that by November 2020  the list of countries with a robust rule of law will be shorter than it is today. Perhaps the best we can hope for is that the Korean DMZ remains a shopping zone rather than a shooting one. 
Michael Cross is the Gazette's news editor. He first covered South Korea as a foreign correspondent in the 1980s
Source link